Menorca Airport Arrivals (MAH)
Not all flights may be showing. If not available use search above to find your flight by airline, airport or flight number.
Origin
Airline
Flight no.
Scheduled
Est./Actual
Status
Palma Mallorca (PMI)
Iberia Regional
IB8488
11:50
Scheduled
Madrid (MAD)
Iberia Regional
IB8962 expand_more(2)
01:10
Scheduled
Madrid (MAD)
American Airlines
AA8751
01:10
Scheduled
Madrid (MAD)
Vueling
VY5325
01:10
Scheduled
Palma Mallorca (PMI)
Iberia Regional
IB8498
01:50
Scheduled
Barcelona (BCN)
Vueling
VY3708 expand_more(3)
02:35
Scheduled
Barcelona (BCN)
Iberia
IB5305
02:35
Scheduled
Barcelona (BCN)
LATAM Airlines
LA5851
02:35
Scheduled
Barcelona (BCN)
Qatar Airways
QR3589
02:35
Scheduled
Palma Mallorca (PMI)
Iberia
IB8480
02:45
Scheduled
Palma Mallorca (PMI)
Iberia
IB8482
03:15
Scheduled
No flight arrivals were found at Menorca Airport.
Flight Arrivals at Menorca Airport
Passengers arriving at Menorca Airport from destinations like Frankfurt or Hamburg in Germany, Warsaw in Poland or Milan and Rome in Italy, will find that the small airport is located just a short 4.5 km drive from the island of Menorca's capital Mahon.
Public transport in the form of buses and taxis await passengers just outside the terminal building. Arrivals at Menorca Airport can also hire a car from one of several car rental stations based in the terminal's arrivals area. Passengers wishing to travel by bus can check the bus times on www.e-torres.net. The bus stop is just outside the terminal.
The taxi rank is situated opposite the terminal building. A typical journey during the day will cost €1.00 per kilometer traveled during the hours of 6 am to 9 pm, after which the night time rate of €1.18 applies. This rate also applies during public holidays, on Saturdays and Sundays.
Menorca Airport started its commercial operations in 1969 and after much rebuilding and refurbishment work, is now a modern airport catering for more than 2.4 million passengers every year. The small island serves a surprising number of 35 cities and 36 airports in countries like Sweden, Poland, Belgium, Germany, Great Britain, Ireland, Portugal and Italy. Menorca Airport arrivals can also originate from Spain itself, as there are flight connections to Malaga and Madrid and the island is a popular holiday destination for Spanish families.
The list of airlines operating out of the small airport is impressive: Air Berlin, Air Europa, Air Nostrum, Condor, Easyjet, Helvetic Airlines, Iberia, Swiftair, TUIfly and Vueling offer charter and scheduled flights to passengers throughout the year, although some routes are only served during the summer on a summer time table.
The new terminal building has provided 13,000 sqm floor space in addition to what was being provided in the old terminal. Some 1,400 sqm of space are devoted to dining and refreshment areas with restaurants, cafeterias and snack bars. Retail spaces comprise of 1,200 sqm of shops, designed in a welcoming wood and granite layout with plants softening the contours and natural light providing a friendly atmosphere for arrivals at Menorca Airport to enjoy the amenities on offer.
The shops supply fashion and accessories from well known brands like Lacoste and Boss, offer delicatessen, toys, newspapers, tourist guide books and maps, while Burger King, Caffe Ritazza and Pans & Co look after the hunger and thirst passengers might work up during their retail experience.
Throughout the terminal building there are information points where Menorca Airport arrivals can contact staff, if they require assistance. There are also several PRM meeting points for passengers with reduced mobility issues in the terminal building. Menorca Airport is a barrier free airport with ramps, elevators and lifts as well as toilet facilities for passengers with reduced mobility.
There are two banking facilities for Menorca Airport arrivals, a Euro 6000 Sa Nostra branch and a La Caixa Servired. Within a short journey of the airport, arrivals at Menorca Airport will find four airport hotels for overnight accommodation: Hotel Residencia Capri, Hotel Apartamentos Mar de Menorca (not open between 1st November and 30th April), Hotel Mirador d'es Port and Hotel Port Mahon.
For more information about arrivals at Menorca Airport, please visit the official airport site at www.aena-aeropuertos.es.
Was your flight delayed or cancelled?
You may be eligible to receive up to 600 EUR compensation per person in your party..
Claim Now!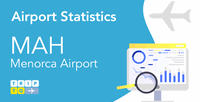 Menorca Airport witnessed an impressive 17.08% increase in passenger numbers, totaling 576,620 passengers, compared to September 2019, when it had recorded 492,504 passengers...