Menorca Airport Departures (MAH)
Not all flights may be showing. If not available use search above to find your flight by airline, airport or flight number.
Destination
Airline
Flight no.
Scheduled
Est./Actual
Status
London (LGW)
Vueling
VY6625 expand_more(1)
01:10
Scheduled
London (LGW)
British Airways
BA8125
01:10
Scheduled
Manchester (MAN)
Jet2
LS760
01:15
Scheduled
Milan (MXP)
easyJet
U23762
01:15
Scheduled
London (LGW)
easyJet
U26494
01:20
Scheduled
Asturias (OVD)
Volotea
V73587
01:20
Scheduled
Bilbao (BIO)
Vueling
VY3803 expand_more(1)
01:35
Scheduled
Bilbao (BIO)
Iberia
IB5388
01:35
Scheduled
Barcelona (BCN)
Vueling
VY3703 expand_more(2)
02:00
Scheduled
Barcelona (BCN)
Iberia
IB5362
02:00
Scheduled
Barcelona (BCN)
Qatar Airways
QR3703
02:00
Scheduled
Paris (ORY)
Vueling
VY8955 expand_more(1)
02:10
Scheduled
Paris (ORY)
Iberia
IB5982
02:10
Scheduled
Geneva (GVA)
easyJet
U21390
02:15
Scheduled
Paris (ORY)
Transavia
TO4695
02:35
Scheduled
Milan (BGY)
Malta Air
FR3320
02:45
Scheduled
Madrid (MAD)
Ryanair
FR3057
03:00
Scheduled
Milan (BGY)
ETF Airways
NO6201
03:05
Scheduled
Malaga (AGP)
Ryanair
FR6512
03:10
Scheduled
Palma de Mallorca (PMI)
Iberia Regional
IB8491
03:10
Scheduled
London (LTN)
easyJet
U22320
04:25
Scheduled
Toulouse (TLS)
Ryanair
FR7598
04:30
Scheduled
Valencia (VLC)
Ryanair
FR7402
04:35
Scheduled
Palma de Mallorca (PMI)
Iberia Regional
IB8507
04:40
Scheduled
London (LGW)
easyJet
U28030
04:50
Scheduled
No flight departures were found at Menorca Airport.
Flight Departures at Menorca Airport
Menorca Airport is mostly a tourist airport, with some 2.5 million passengers passing through its gates every year. Spain itself, followed by Britain and Germany are the main suppliers of home-grown and foreign tourism with Barcelona, Mallorca and Madrid being the most popular destinations from which Spanish passengers fly to Menorca.
For the last ten years passenger numbers have remained fairly static, suggesting that visitors to Menorca are faithful in their holidaying habits. The island attracts mostly families to its wonderful beaches, sedate and child friendly towns and villages.
Departures at Menorca Airport have a choice of foreign destinations by charter flight which includes Aberdeen, London and Belfast in the British Isles, Stockholm in Sweden, Frankfurt and Hamburg in Germany as well as Brussels in Belgium, Rome, Milan and Venice in Italy and Warsaw in Poland. Within Spain passengers can take a short flight across the sea from Menorca Island to the neighbouring island of Mallorca as well as choose longer domestic flights to Madrid, Barcelona or Malaga.
Several budget airlines operate out of the airport and Menorca Airport departures can choose from carriers such as Vueling, Air Berlin, Air Europa and Air Nostrum to name but a few. The sheer number of destinations offered and airports covered means that Menorca Airport departures can visit several different autonomous regions of Spain during a two week holiday in the country.
It is easy to get to the airport from the various resort towns and villages on the island. Passengers who rented a car during their stay will find the car rental counters of several car hire companies located in the terminal building, and there is a special car parking area for hire cars, where these vehicles can be dropped off at the end of the rental contract.
Menorca Airport departures can also take advantage of the half hourly bus services that connect Mahon city centre with the airport. A taxi ride will only cost around €3.20, depending on the time of day and day of the week a passenger travels. The airport is just 4.5 km distance from Mahon city center, so at any time a trip should not cost more than €10.
Menorca Island is a wonderful place for a relaxed family holiday. The huge natural harbour in Mahon offers many photographic opportunities to capture Menorca at its best. Here traditional fishing boats built to an ancient Moorish design bob up and down next to chic modern yachts. A harbour tour by boat takes roughly an hour and it the best way to see this maritime wonder. Tickets can be bought at the Xoriguer Gin Distillery, a tourist attraction in its own right!
Constructed during the 18th century, the distillery can be found in the harbour at the Moll de Ponent quayside. The huge copper stills produce one of Menorca's finest products, gin, as well as a number of other liquors. The distillery can be visited between the hours of 8 am to 7 pm during the week and on Saturdays the distillery is open to the public from 9 am to 1 pm.
Menorca Island has many fine Gothic and baroque churches and the 13th century Ciutadella Cathedral is not just a symbol of architectural triumph over the lack of technology available at that time, but also a triumphant statement made by historic Spain's Christian rulers over the Moorish occupation of Spain, since the cathedral was built on the foundations of a mosque. The cathedral's neo-Gothic awnings, its superb stone carvings of charming mythical creatures and its location in beautiful Ciutadella town make this one of the highlights on the Menorca tourist trail.
For further information about departures at Menorca Airport, please consult the official airport website at www.aena-aeropuertos.es
Was your flight delayed or cancelled?
You may be eligible to receive up to 600 EUR compensation per person in your party..
Claim Now!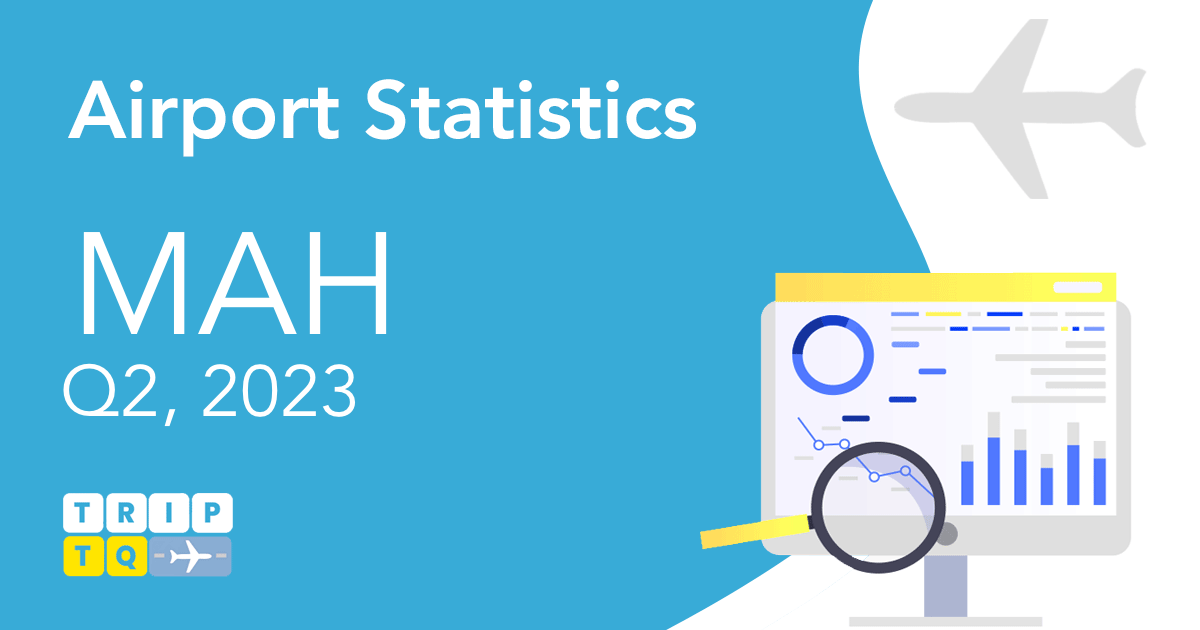 Menorca Airport's Q2 figures indicate an 18% increase compared to pre-pandemic levels, and when comparing the same period last year, it has experienced a notable 3% year-on-year increase in passenger volumes.