Flights, Arrivals & Departures at Menorca Airport
Origin
Airline
Flight no.
Scheduled
Est./Actual
Status
Palma Mallorca (PMI)
Swiftair
WT110
06:05
Unknown
Palma Mallorca (PMI)
Swiftair
WT222
07:05
07:05
Landed
Marseille (MRS)
Ryanair
FR7442
07:25
07:14
Landed
Marseille (MRS)
Volotea
V72476
07:25
07:19
Landed
Bordeaux (BOD)
Ryanair
FR7158
07:35
07:10
Landed
Palma Mallorca (PMI)
Iberia Regional
IB8500
07:40
08:52
Landed
Barcelona (BCN)
Vueling
VY3712 expand_more(1)
08:00
07:56
Landed
Barcelona (BCN)
Iberia
IB5369
08:00
07:56
Landed
Luxembourg (LUX)
Luxair
LG671
08:00
07:50
Landed
Madrid (MAD)
Iberia Express
IB3816 expand_more(1)
08:15
08:04
Landed
Madrid (MAD)
Vueling
VY5073
08:15
08:04
Landed
Napoli (NAP)
Ryanair
FR7169
08:40
08:30
Landed
London (LGW)
easyJet
U28025
08:55
08:53
Landed
Bergamo (BGY)
ETF Airways
NO6200
09:10
09:00
Landed
Palma Mallorca (PMI)
Iberia Regional
IB8494
09:10
09:03
Landed
Bristol (BRS)
TUI
BY6680
09:15
09:04
Landed
Oviedo Aviles (OVD)
Volotea
V73586
09:15
08:56
Landed
London (LGW)
TUI
BY5640
09:25
09:13
Landed
Birmingham (BHX)
TUI
BY7614
09:45
09:56
Landed
Porto (OPO)
Iberia Regional
YW2361
09:55
09:30
Landed
Derby (EMA)
TUI
BY7652
10:05
09:53
Landed
Newcastle (NCL)
Jet2
LS373
10:20
09:46
Landed
Paris (ORY)
Transavia
TO4690
10:35
10:27
Landed
Manchester (MAN)
TUI
BY2608
10:35
10:31
Landed
Leeds (LBA)
Jet2
LS375
10:45
10:02
Landed
Palma Mallorca (PMI)
Swiftair
WT7882 expand_more(1)
10:45
10:47
Landed
Palma Mallorca (PMI)
Air Europa
UX2059
10:45
10:47
Landed
Bristol (BRS)
Jet2
LS1859
10:50
10:24
Landed
Derby (EMA)
Jet2
LS677
10:55
10:14
Landed
London (LGW)
British Airways
BA2566 expand_more(1)
11:10
10:58
Landed
London (LGW)
Qatar Airways
QR9786
11:10
10:58
Landed
Luton (LTN)
VistaJet Malta
VJT457
11:20
11:11
Landed
Murcia (RMU)
Volotea
V73366
11:20
11:01
Landed
Palma Mallorca (PMI)
Iberia Regional
IB8488
11:45
11:34
Landed
Birmingham (BHX)
Jet2
LS1263
11:50
11:27
Landed
Glasgow (GLA)
Jet2
LS145
12:00
11:32
Landed
London (LGW)
easyJet
U26493
12:10
12:00
Landed
Manchester (MAN)
Jet2
LS759
12:15
Scheduled
London (LGW)
Vueling
VY6624 expand_more(1)
12:35
Scheduled
London (LGW)
British Airways
BA8124
12:35
Scheduled
Milan (MXP)
easyJet
U23761
12:35
Scheduled
San Sebastian (EAS)
Volotea
V73344
12:55
Scheduled
Bilbao (BIO)
Vueling
VY3802 expand_more(1)
13:00
Scheduled
Bilbao (BIO)
Iberia
IB5387
13:00
Scheduled
Barcelona (BCN)
Vueling
VY3702 expand_more(3)
13:25
Scheduled
Barcelona (BCN)
Iberia
IB5361
13:25
Scheduled
Barcelona (BCN)
LATAM Airlines
LA5853
13:25
Scheduled
Barcelona (BCN)
Qatar Airways
QR3697
13:25
Scheduled
Paris (ORY)
Vueling
VY8954 expand_more(1)
13:25
12:50
Landed
Paris (ORY)
Iberia
IB5981
13:25
12:50
Landed
Geneva (GVA)
easyJet
U21389
13:35
Scheduled
Paris (ORY)
Transavia
TO4694
13:50
Scheduled
Bergamo (BGY)
Malta Air
FR3319
14:10
Scheduled
Bologna (BLQ)
ETF Airways
NO6876
14:15
Scheduled
Madrid (MAD)
Ryanair
FR3056
14:20
Scheduled
Malaga (AGP)
Ryanair
FR6511
14:35
Scheduled
Palma Mallorca (PMI)
Iberia Regional
IB8480
14:40
Scheduled
Luton (LTN)
easyJet
U22319
15:45
Scheduled
Toulouse (TLS)
Ryanair
FR7597
15:55
Scheduled
Manises (VLC)
Ryanair
FR7401
16:00
Scheduled
Palma Mallorca (PMI)
Iberia Regional
IB8506
16:05
Scheduled
London (LGW)
easyJet
U28029
16:10
Scheduled
London (STN)
Jet2
LS1513
16:15
Scheduled
Toulouse (TLS)
easyJet
U24941
16:25
Scheduled
Barcelona (BCN)
Ryanair
FR6881
16:50
Scheduled
Cat Island (CAT)
Air Hamburg
AHO754
16:52
Scheduled
Bologna (BLQ)
Ryanair
FR7581
17:10
Scheduled
Mulhouse basel (BSL)
easyJet
U21013
17:20
Scheduled
Lübeck (LBC)
Cyprus Airways
O87812
17:27
Scheduled
Lübeck (LBC)
Flexflight
W22488
17:30
Scheduled
Munich (MUC)
Discover Airlines
LH1836
17:40
Scheduled
Barcelona (BCN)
Vueling
VY3708 expand_more(3)
18:00
Scheduled
Barcelona (BCN)
Iberia
IB5365
18:00
Scheduled
Barcelona (BCN)
LATAM Airlines
LA5851
18:00
Scheduled
Barcelona (BCN)
Qatar Airways
QR3594
18:00
Scheduled
Palma Mallorca (PMI)
Iberia Regional
IB8484
18:00
Scheduled
Manchester (MAN)
TUI
BY2656
18:15
Scheduled
Barcelona (BCN)
Vueling
VY3700 expand_more(3)
19:05
Scheduled
Barcelona (BCN)
Iberia
IB5359
19:05
Scheduled
Barcelona (BCN)
LATAM Airlines
LA5783
19:05
Scheduled
Barcelona (BCN)
Qatar Airways
QR3518
19:05
Scheduled
Palma Mallorca (PMI)
Iberia Regional
IB8492
19:05
Scheduled
Madrid (MAD)
Iberia Express
IB3818 expand_more(2)
19:40
Scheduled
Madrid (MAD)
American Airlines
AA8552
19:40
Scheduled
Madrid (MAD)
Vueling
VY5078
19:40
Scheduled
Prague (PRG)
Smartwings
QS1168 expand_more(1)
19:40
Scheduled
Prague (PRG)
Czech Airlines
OK4700
19:40
Scheduled
Barcelona (BCN)
Ryanair
FR7509
20:00
Scheduled
London (LGW)
easyJet
U28031
20:25
Scheduled
Madrid (MAD)
Iberia Express
IB3796
20:45
Scheduled
Bristol (BRS)
easyJet
U22729
20:50
Scheduled
Manises (VLC)
Iberia
IB8440
21:35
Scheduled
Madrid (MAD)
Ryanair
FR3058
21:55
Scheduled
Barcelona (BCN)
Vueling
VY3718 expand_more(2)
22:15
Scheduled
Barcelona (BCN)
Iberia
IB5373
22:15
Scheduled
Barcelona (BCN)
Qatar Airways
QR3763
22:15
Scheduled
Alicante (ALC)
Ryanair
FR9103
22:20
Scheduled
Manises (VLC)
Ryanair
FR9820
22:25
Scheduled
Barcelona (BCN)
Ryanair
FR8968
22:40
Scheduled
Palma Mallorca (PMI)
Iberia Regional
IB8496
23:00
Scheduled
Destination
Airline
Flight no.
Scheduled
Est./Actual
Status
Barcelona (BCN)
Swiftair
WT113
06:50
Unknown
Palma de Mallorca (PMI)
Iberia Regional
IB8481
07:05
07:15
En-Route
Murcia (RMU)
Volotea
V73367
07:55
08:01
En-Route
Marseille (MRS)
Ryanair
FR7443
08:05
08:05
En-Route
Bordeaux (BOD)
Ryanair
FR7159
08:10
08:08
En-Route
Palma de Mallorca (PMI)
Iberia Regional
IB8501
08:10
09:31
En-Route
Barcelona (BCN)
Vueling
VY3713 expand_more(3)
08:40
09:05
En-Route
Barcelona (BCN)
Iberia
IB5370
08:40
09:05
En-Route
Barcelona (BCN)
LATAM Airlines
LA5866
08:40
09:05
En-Route
Barcelona (BCN)
Qatar Airways
QR3700
08:40
09:05
En-Route
Luxembourg (LUX)
Luxair
LG672
08:45
09:08
En-Route
Madrid (MAD)
Iberia Express
IB3815 expand_more(3)
08:55
09:07
En-Route
Madrid (MAD)
American Airlines
AA8829
08:55
09:07
En-Route
Madrid (MAD)
Qatar Airways
QR5380
08:55
09:07
En-Route
Madrid (MAD)
Vueling
VY5184
08:55
09:07
En-Route
Naples (NAP)
Ryanair
FR7170
09:20
09:28
En-Route
San Sebastian (EAS)
Volotea
V73345
09:40
09:47
En-Route
Palma de Mallorca (PMI)
Iberia Regional
IB8495
09:40
09:54
En-Route
Bologna (BLQ)
ETF Airways
NO6877
10:00
10:04
En-Route
London (LGW)
easyJet
U28026
10:10
10:40
En-Route
Bristol (BRS)
TUI
BY6681
10:15
10:29
En-Route
London (LGW)
TUI
BY5641
10:30
11:13
En-Route
Birmingham (BHX)
TUI
BY7615
10:45
11:15
En-Route
Nottingham (EMA)
TUI
BY7653
11:05
11:37
En-Route
Newcastle (NCL)
Jet2
LS374
11:05
11:18
En-Route
Porto (OPO)
Iberia Regional
YW2362
11:05
11:07
En-Route
Palma de Mallorca (PMI)
Swiftair
WT7883 expand_more(1)
11:15
11:20
En-Route
Palma de Mallorca (PMI)
Air Europa
UX2058
11:15
11:20
En-Route
Leeds (LBA)
Jet2
LS376
11:30
11:29
En-Route
Bristol (BRS)
Jet2
LS1860
11:35
11:43
En-Route
Paris (ORY)
Transavia
TO4691
11:35
11:35
En-Route
Nottingham (EMA)
Jet2
LS678
11:40
11:45
En-Route
Manchester (MAN)
TUI
BY2609
11:50
11:47
En-Route
Marseille (MRS)
Volotea
V72477
11:50
12:01
En-Route
London (LGW)
British Airways
BA2567 expand_more(1)
12:25
Scheduled
London (LGW)
Qatar Airways
QR9787
12:25
Scheduled
Palma de Mallorca (PMI)
Iberia Regional
IB8485
12:25
Scheduled
Birmingham (BHX)
Jet2
LS1264
12:40
Scheduled
Glasgow (GLA)
Jet2
LS146
12:45
Scheduled
London (LGW)
Vueling
VY6625 expand_more(1)
13:10
Scheduled
London (LGW)
British Airways
BA8125
13:10
Scheduled
Manchester (MAN)
Jet2
LS760
13:15
Scheduled
Milan (MXP)
easyJet
U23762
13:15
Scheduled
London (LGW)
easyJet
U26494
13:20
Scheduled
Asturias (OVD)
Volotea
V73587
13:20
Scheduled
Bilbao (BIO)
Vueling
VY3803 expand_more(1)
13:35
Scheduled
Bilbao (BIO)
Iberia
IB5388
13:35
Scheduled
Barcelona (BCN)
Vueling
VY3703 expand_more(2)
14:00
Scheduled
Barcelona (BCN)
Iberia
IB5362
14:00
Scheduled
Barcelona (BCN)
Qatar Airways
QR3703
14:00
Scheduled
Paris (ORY)
Vueling
VY8955 expand_more(1)
14:10
Scheduled
Paris (ORY)
Iberia
IB5982
14:10
Scheduled
Geneva (GVA)
easyJet
U21390
14:15
Scheduled
Paris (ORY)
Transavia
TO4695
14:35
Scheduled
Milan (BGY)
Malta Air
FR3320
14:45
Scheduled
Madrid (MAD)
Ryanair
FR3057
15:00
Scheduled
Milan (BGY)
ETF Airways
NO6201
15:05
Scheduled
Malaga (AGP)
Ryanair
FR6512
15:10
Scheduled
Palma de Mallorca (PMI)
Iberia Regional
IB8491
15:10
Scheduled
London (LTN)
easyJet
U22320
16:25
Scheduled
Toulouse (TLS)
Ryanair
FR7598
16:30
Scheduled
Valencia (VLC)
Ryanair
FR7402
16:35
Scheduled
Palma de Mallorca (PMI)
Iberia Regional
IB8507
16:40
Scheduled
London (LGW)
easyJet
U28030
16:50
Scheduled
London (STN)
Jet2
LS1514
17:00
Scheduled
Toulouse (TLS)
easyJet
U24942
17:05
Scheduled
Barcelona (BCN)
Ryanair
FR6882
17:25
Scheduled
Bologna (BLQ)
Ryanair
FR7580
17:45
Scheduled
Basel (BSL)
easyJet
U21014
18:10
Scheduled
Lubeck (LBC)
Flexflight
W22489
18:15
Scheduled
Lubeck (LBC)
Cyprus Airways
O87813
18:20
Scheduled
Munich (MUC)
Discover Airlines
LH1837
18:25
Scheduled
Barcelona (BCN)
Air Hamburg
AHO754
18:35
Scheduled
Palma de Mallorca (PMI)
Iberia Regional
IB8497
18:35
Scheduled
Barcelona (BCN)
Vueling
VY3709 expand_more(1)
18:40
Scheduled
Barcelona (BCN)
Iberia
IB5366
18:40
Scheduled
Manchester (MAN)
TUI
BY2657
19:30
Scheduled
Palma de Mallorca (PMI)
Iberia Regional
IB8487
19:35
Scheduled
Barcelona (BCN)
Vueling
VY3701 expand_more(1)
19:40
Scheduled
Barcelona (BCN)
Iberia
IB5360
19:40
Scheduled
Madrid (MAD)
Iberia Express
IB3817 expand_more(1)
20:20
Scheduled
Madrid (MAD)
Vueling
VY5190
20:20
Scheduled
Prague (PRG)
Smartwings
QS1169 expand_more(1)
20:30
Scheduled
Prague (PRG)
Czech Airlines
OK4701
20:30
Scheduled
Barcelona (BCN)
Ryanair
FR7510
20:35
Scheduled
London (LGW)
easyJet
U28032
21:05
Scheduled
Madrid (MAD)
Iberia Express
IB3797
21:25
Scheduled
Bristol (BRS)
easyJet
U22730
21:30
Scheduled
Valencia (VLC)
Iberia
IB8441
22:15
Scheduled
Madrid (MAD)
Ryanair
FR3059
22:30
Scheduled
Barcelona (BCN)
Vueling
VY3719 expand_more(1)
22:50
Scheduled
Barcelona (BCN)
Iberia
IB5374
22:50
Scheduled
Alicante (ALC)
Ryanair
FR9104
22:55
Scheduled
Valencia (VLC)
Ryanair
FR9821
23:00
Scheduled
Barcelona (BCN)
Ryanair
FR8969
23:15
Scheduled
Flying To and From Menorca Airport
This page provides information about the destinations that can be reached via Menorca Airport.
Was your flight delayed or cancelled?
You may be eligible to receive up to 600 EUR compensation per person in your party..
Claim Now!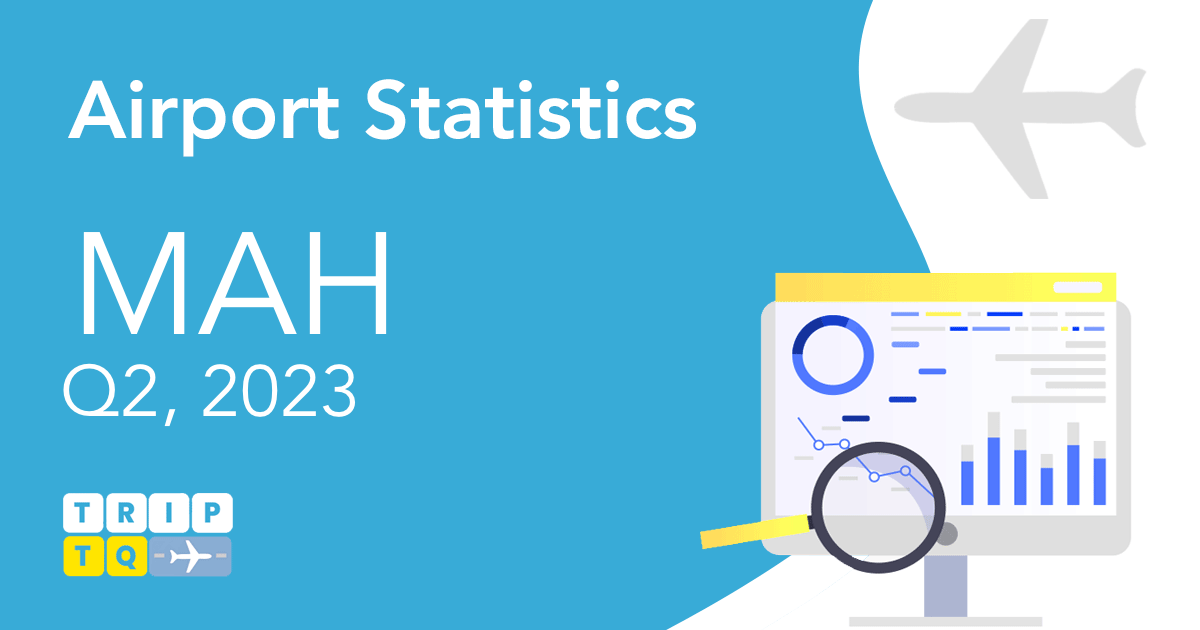 Menorca Airport's Q2 figures indicate an 18% increase compared to pre-pandemic levels, and when comparing the same period last year, it has experienced a notable 3% year-on-year increase in passenger volumes.